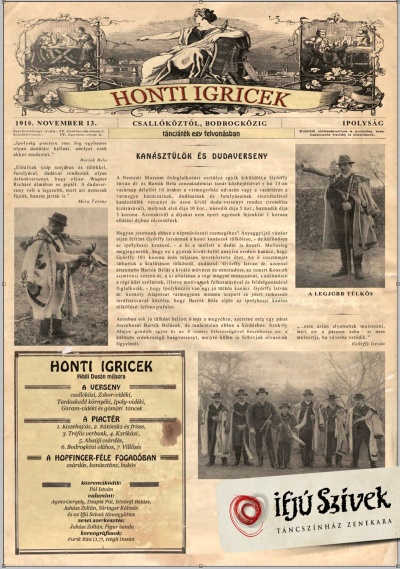 /danceplay in one act/
This monumental co-production by Ifjú Szivek was inspired by Béla Bartók's folk music collection in Hont county in November 1910. The story is based around the famous swineherd horn and bagpipe competition held on the main square of Ipolyság, and incorporates the music and dance traditions relating to the 'classical' swineherd-shepherd topic of these culturally rich regions. Bartók gives the following account of the event:  
"In Ipolyság Alajos Szokoly county archivist made the collection possible with his high readiness for sacrifice. He recruited for a swineherds' horn competition and a separate bagpipe competition for our sake (I had dr István Győrffy, the director of the ethnography department with me). In the short course of one afternoon we caught a much more interesting 'prey' than the one we found in Nagymegyer. Approximately 10 horn players and 5 bagpipe players – some of them both in one person - responded to the call and came together. What a sight! They march along equipped with all the finery of their profession. Ornamental skins on their shoulders, decorated bagpipes under their arms, horn in their hands and exquisitely studded swineherd whips. It is unlikely we will ever see 5 bagpipe players together in one place again and the marketplace in Ipolyság will probably not hear bagpipe music of the quality played then for some time".
 I. The competition
Dances from Csallóköz
Dances from the Zobor region
Dances from around Tardoskedd
Dances from the Ipoly region
Dances from the Garam region
Dances from Gömör
 
II. The Marketplace
Kiszehajtás
Rátócska and frisse
Funny verbunk
Karikázó (women's dance)
Csárdás from Abaúj
Oláhos from Bodrogköz
Villőzés
 
III. In the Hoppfinger inn
csárdás
kanásztánc (swineherds' dance)
bukós
 
Length: 75 min.
Katalin Bartal Csóka, Mónika Dobsa Fodor, Anikó Lépes, Edit Rigó Marsal "Dóci", Andrea Mészáros, Zsófi Varsányi, Tamás Dobsa, Gábor Katona, Imre Madocsai, Attila Oláh, Richard Reicher, Attila Sánta
István Pál, Master of Folk Art – badpipe, flute, vocals, Jolán Mihók Kocák and Margit Ceranko – vocals, Margó Mezei, Lajos Mezei – dance, Gergely Agócs – bagpipe, clarinet, Pál Dsupin – bagpipe, Zoltán Juhász – bagpipe, Ágnes Varsányi – narrator, Aranka Balta – dance, Péter Bitter – dance, László Paál – dance, Ferenc Kusy – dance, Péter Bayer – dance, Feszty Árpád Folkdance Ensemble, traditionalists from Martos
Ádám Takács – violin, Róbert Lakatos – violin, Zoltán Hanusz – viola, Tibor Lelkes – double bass
Zoltán Juhász, Figur band
Rita Furik (1,7), Dusan Hégli