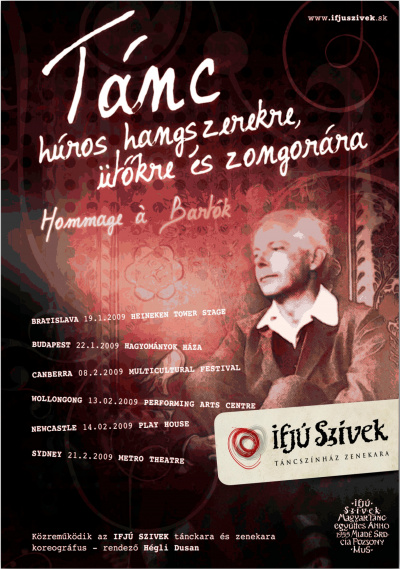 Dance for Strings, Percussion and Piano
Béla Bartók is still one of the world's most well known composers and folklorists. Despite this there are not many who are aware of the intricate paths and influences within his work. In his own special way, he respected and gravitated towards the traditional folk music culture and this became a part of his unique compositional genius. Bartók composed in a new and unique way that managed to capture the spirit and strength of traditional music.
Bartók had many links to Slovakia, as a folklorist and performer as well as his own personal connections. Firstly, through his mother, but also through the conservatorium where he studied and the many concerts he performed in what is today a part of Slovakia. He travelled many times to the Hungarian and Slovak villages of Gömör, Nyitra, Hont, Komárom and Zólyom counties. He published his collections of traditional songs in many places.
The production Dance for Strings, Percussion and Piano was primarily inspired by the influence of traditional music and dance on Bartók's particular compositional genius. This can be observed through the rhythm and dynamics of the traditional dance/music and the differences between this and western music and harmonies. Bartók managed to bring out the depth and spirit of traditional dance in his work. This is the most determining factor in his instrumental style, either in his use of dance forms or in abstract references to traditional music. In Bartók's work the dance can be heard. In this production the director is trying to visualize the music in the dance. The same music that was so inspiring to Bartók.
Dusan Hégli has been studying the life and work of Bartók for many years. The production, Honti igricek (Musicians from Hont) premiered in 2001 was inspired by Bartók´s description of the bagpipe competition in Ipolyság. In Felföldi levelek (Letters from the Highlands) 2005 his private letters and works are incorporated. In this performance traditional dance and music combine to explore the life path of Bartók. The inserted music and pictures, authentic presentation, live music, costume and staging together help us to understand how his life, experiences and thoughts affected and influenced his works.
Pictures, letters, phonograph recordings, dances, musical collections, memoires, Bartók´s music and writings, all these come together with its creator to form a 'film within'... it is the performance of Dance for Strings, Percussion and  Piano.
Dance Suite
Székely Songs
Four Dances from Csík
Swineherds' Dance for Six
Bagpipe Competition 1910
Duo for Hurdy Gurdy
Twenty Slovak Folk Songs
Romanian Dances
Only from the Pure Source
Dance for Strings
 
The programme covers parts of Béla Bartók's Forty-Four Duos for Two Violins, Gyergyó, Three Folk Songs from Csík county, Four Slovak Folk Songs, Romanian Folk Dances, Music for Strings, Percussion and Celesta works.
The traditional dance and music originates from Zoboralja, Gömör, Kis-Küküllö mente, Felcsík, Somogy, Ipolyság, Dél-Alföld, Pólyányhegyalja, Sajó mente, Felső-Maros mente, Bihar és Kalotaszeg.
Length: 65 min.
Renáta Fecske, Zsuzsanna Hanusz, Mária Horváth, Zsuzsanna Kassai, Anita Kovács, Anikó Lépes, Flóra Monozlai, Friderika Varga, Zsófi Varsányi, Péter Bitter, Tamás Dobsa, Gábor Gálik, Imre Madocsai, Attila Oláh, Richard Reicher
Bence Hégli Bence and Máté Hégli
Koncz Gergely – hegedű, Németh Dénes – hegedű, Mester László "Pintyő" - brácsa, ütőgardon, Lelkes Tibor – nagybőgő, dob
Gergely Koncz – violin, Dénes Németh– violin, László Mester "Pintyő" - viola, gardon, Tibor Lelkes– double bass, drum
Anett Nagypál, Ignác Kádár (3), Dusan Hégli (1,2,4-10)