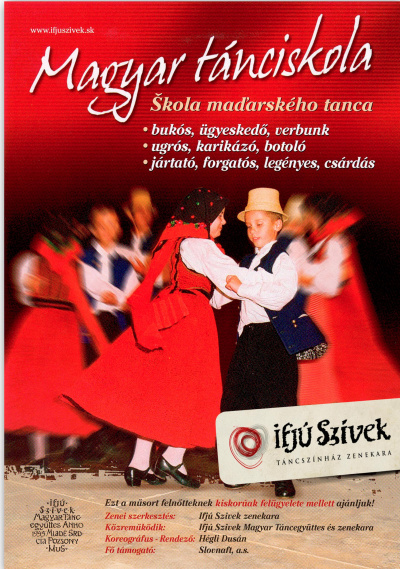 We advise that child guidance is recommended for all adults!
Ifjú Szivek Dance Theatre feels a responsibility to include programmes designed for people at a young age in our repertoire. Hungarian School of Dance is the most successful matinee show that our company has produced. It has been presented almost 200 times in Slovakia and abroad in the past ten years.
Set in a classroom, the show is an irregular school lesson which presents the dance and music of the people in the Carpathian Basin according to regions. Entertainment is guaranteed thanks to the humorous directness of staging. Meanwhile an enormous amount of information is conveyed to the children on traditional folk culture (dance types, dialects, costumes, music). The world which is conjured on stage is familiar to a 21st century child, traditional dance and music is linked to everyday situations, therefore the young viewers are unaware of being taught about this essential part of our culture. By the end of the programme all prejudices which regard folkdance as ancient, boring or old-fashioned have been dispelled. Hungarian School of Dance provides a memorable theatrical experience for children and adults alike.   
I. Western, Transdanubian dance dialect - Bukós (bukós from the Vág-Garam region)
- Ügyeskedő (instrumental dances from Csallóköz and Mátyusföld)
- Verbunk (Kónyi körverbunk)
- Presentation of musical instruments
II. Central, Tisza dance dialect
- Ugrós (páros oláhos from Dél-Alföld)
- Karikázó (karikázó from Magyarbőd)
- Botoló (pásztorbotoló from Gömör )
III. Eastern, Transylvanian dance dialect  - Jártató (Gyimesközéplok)
- Forgatós (forgatós from Marosszék)
- The trick
- Legényes (legényes from Kalotaszeg)
- Csárdás (csárdás and szapora from Kalotaszeg)
Lenght: 50 min.
"Lo and behold: in a minute the stage was full of adventurous boys eager to dance and even two girls dared to join them (keep in mind that this was an evening show for adults!) This initiative is worth continuing at all events. There is a chance that out of the thirty thousand children who have seen the show three thousand will become adults for whom traditional music and dance will be a natural medium, and with this key they will be able to open the other gates of our native culture more easily. Thanks to Ifjú Szivek for this."
Géza Sebők: Az Ifjú Szivek tánciskolája és felföldi utazása, 2005
Klaudia Gálik, Mária Horváth, Zsuzsanna Kassai, Anita Kovács, Zsófi Varsányi, Ákos Botló, Gergely Botló, Gábor Gálik
Gergely Koncz– violin, Máté Hegedűs– violin, Endre Papp– viola, gardon, Balázs Domonkos– double bass
Ifjú Szivek Dance Theatre Band
Zsuzsanna Hanusz, Anikó Lépes, Henrietta Pusztai, Edit Rigó Marsal "Dóci", Zsófi Varsányi, Péter Bitter, Dénes Dreisziger, Dusan Hégli, Imre Madocsai, Attila Magyarics, Attila Oláh, Richard Reicher
Gergely Koncz – violin, Róbert Lakatos – violin, László Mester "Pintyő" – viola, gardon, Tibor Lelkes – double bass