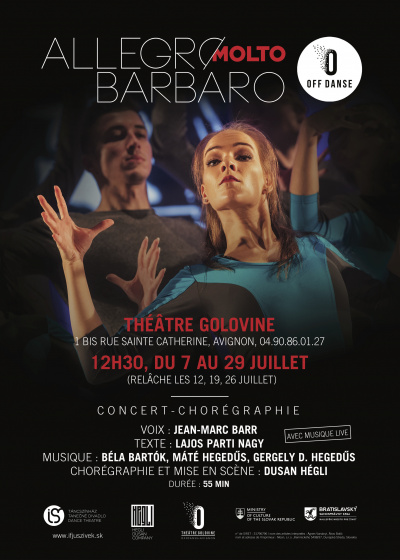 Le spectacle est né de l'adaptation de la pièce Catastrophe de Samuel Beckett écrite en 1982 et dédiée à Václav Havel alors emprisonné.
Qui mieux que l'Europe Centrale a intégré à sa culture musicale nationale le concept du quatuor à cordes créé par Haydn ? Ce genre musical résonne aussi bien dans le style instrumental de Bartók que dans la tradition orchestrale à Wien ou dans celle des musiciens traditionnels des campagnes. Chez Bartók notamment, le quatuor à cordes prend possession de tout l'univers rythmique, dynamique et harmonique de la musique instrumentale traditionnelle. Ce concept instrumental particulier du quatuor à cordes a fait éclore l'essence organique de la danse en l'unissant étroitement à la musique.

Allegro Molto Barbaro, c'est après Finetuning, déjà donné en Avignon en 2016 et 2017, le second opus d'une trilogie signée Dusán Hégli. Le spectacle se nourrit de cette culture traditionnelle du mouvement organique que les siècles ont affinée. La trilogie modernise la tradition de la danse de l'Europe Centrale en évoquant à travers le langage corporel la vie quotidienne, les sentiments et les émotions inscrits au cœur de l'être humain.

Venues de la régie, les instructions par la voix de Jean-Marc Barr fusent lors de la générale. Chacun les suit scrupuleusement. Tu ne dois ni penser, ni poser de questions, tu risques de te détruire toi-même et de ralentir le travail de la troupe pour la Mission Sacrée. Les sceptiques seront les ennemis, cela n'en vaut pas la peine, prends ta place, que le succès et les lendemains radieux s'emparent de la nation. Unique objectif : obéir au pouvoir et atteindre l'avenir glorieux apte à élever la patrie. Les instructions du metteur en scène nous évoquent le mal du XXème siècle en Europe de l'Est. En adaptant la pièce Catastrophe de Samuel Beckett et avec les textes de Lajos Parti Nagy, Allegro Molto Barbaro rend hommage non seulement à Václav Havel mais aux artistes censurés et mis à l'index dans cette nouvelle Europe de l'Est, devant les spectacles interdits, encore aujourd'hui en 2021.
CITATION
"Je ne le laisserai pas gâcher ma joie. Moi aussi, je suis un être humain. On est d'accord sur le fait que, fondamentalement, tout va bien, merci pour le travail accompli, mais comprenez bien, on ne peut pas allaiter un bébé positif à des seins négatifs ! On a ce bon petit Bartók, ce n'est pas vrai qu'on ne puisse pas être plus joyeux !"
Lajos Parti Nagy
Allegro Molto Barbaro
The performance has been created on the basis of "Catastrophe", a play by Samuel Beckett, written in 1982 and dedicated to then imprisoned Václav Havel.
Nowhere else in the world has the concept of Haydn's string quartet been more incorporated in the music culture of individual nations than in Central Europe. This piece became the most influential factor in Bartók's instrumental music. It can mostly be perceived in his string quartets, in the rhythmical, dynamical and harmonic forms of traditional instrumental music, often very different from that of the western world. Dance, the world of organic, unique movements which has been polished to perfection through centuries together with music, was made audible in his music.
Allegro Molto Barbaro evolves from this organic, traditional movement culture. It speaks about such ordinary, visceral phenomena at an emotional, evocative level that modern man tends to simplify or see in black and white.
At the main rehearsal of the dance theatre, all dancers follow the instructions on the screens with a surgeon's precision. Do not think, do not question anything because you will ruin yourself and slow down the work of the whole team in creating magnificent art. Every sceptic becomes an enemy, it is not worth it, get in line so that our group can turn the success and the bright future into a benefit for the whole nation as soon as possible. Director's instructions remind us of the creation and victorious ride of devilish forces of the last century in Eastern Europe. Inspired by Samuel Beckett´s "Catastrophe", the dance and theatrical performance Allegro Molto Barbaro, with texts by Hungarian poet Lajos Parti Nagy, pays tribute right now in 2021 not only to Václav Havel but also to all Eastern European artists who were censored or banned at that time in their country.
Duration: 55 min
 
QUOTE
 
"I don´t let anyone steal my joy. I am only human. We've agreed that it is basically good. We appreciate our mutual cooperation so far but it needs to be understood that a negative breast cannot raise a positive child! There is this pretty fine Bartók, no way it doesn't lift everyone's spirits."
Lajos Parti Nagy
CRITIQUE
 
"And while we watch flashes of human and artistic resilience against the ruling power, a team with extraordinary professional competence dances right before our eyes."
Krisztina Lakatos, Új Szó, 2019
"On y voit la résistance artistique et humaine contre le pouvoir, par une excellente troupe. "
Krisztina Lakatos, Új Szó, 2019
Ákos Botló, Erik Brusznyai, András Lantos, Veronika Sebő, Ágnes Varsányi, Anna Vermes
Máté Hegedűs – violin, Miklós Király – violin, Gergely D. Hegedűs – viola, Tamás Király – double bass
Natalia Zaremba, Charles Zaremba
Béla Bartók, Máté Hegedűs, Gergely Dávid Hegedűs
Création lumière et scénographie / Lighting and scenography
Collaborateurs artistiques / Art collaborators
Ákos Botló, Ágnes Varsányi
Assistant artistique / Artistic Assistant
Chorégraphie et mise en scène / Director, choreographer